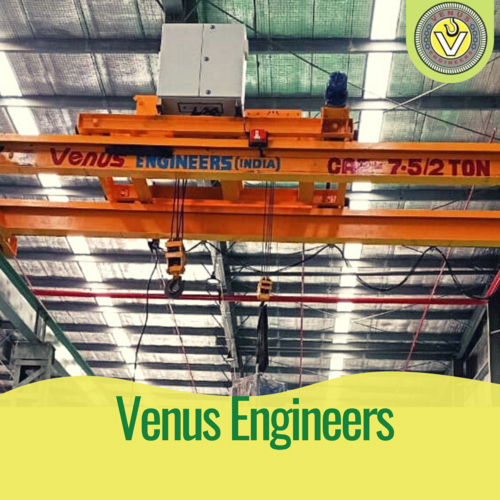 Product Description
With great zeal and enthusiasm, we are successfully engaged in offering our clients with an excellent quality range of EOT Double Girder Crane. The provided crane is manufactured by skilled troop of professionals using quality approved components at our sophisticated premises. This is widely used in various industries for lifting & transporting the materials of any capacities. Apart from this, the offered Double Girder EOT Crane is available at reasonable prices for our valued clients.

EOT Double Grider Cranes are employed for lifting heavy loads that may weigh up to 10 T, for transporting heavy weights including the distance of 30m and more than that. The products are congenial with heavy weights and wide pans. Featuring torsion free box grinders, these can hold up heavy loads. Helpful in lifting heavy loads, which cannot be executed by normal cranes these cranes have been factory-made with assorted raw materials like MS Sheets, brakes, I-beam and many more. The raw materials may dissent for cranes, which are particularly titled as powerhouse cranes. The cranes need low fixing in comparison with powerhouse cranes. These Double Girder EOT Cranes can be customized as per client's demands and can be molded to what they want.

The products come in following capabilities:

1) 0.5 Ton to 100 Ton Capacity
2) 3 m to 30 m Span
3) 0.5 m to 35m Lift

Operational and structural facet:

For the lifting of heavy loads of certain limits, these Overhead EOT Double Girder Cranes are extremely beneficial. These are designed in an easy way by utilizing Electric Hoists and normal chain pulleys. The products are highly suggested for Power House Cranes and can be utilized for comely maintenance. Available in competitive prices these are made-up with optimum designs and shapes.

Features and benefits:

1) Dead weight is avoided.
2) Cost of the instrumentation is decreased to the maximum.
3) Can oftentimes be utilized, as upkeep is easy and appropriate for power house cranes.
4) Can be utilized with hand-operated long and cross travel installation.
5) Can also be utilized with motorized chain pulleys.
6) Electric Hosts can also be utilized with these cranes.
7) The designing of Overhead EOT Double Girder Cranes are very economical
8) Cost of the shed is decreased as it necessitates low head room.
9) Optimum design of the construction obviating dead weight and making reduction in the cost of the equipment.
10) Economical arrangement by giving manual long and cross travel artifact with a precondition for utilizing either the electric hoist or the motorized chain pulley blocks.
11) Low head room that in turn cut down the expenditure of the shed/building.
12) Custom-made design to match the budget of the customer.
13) Less time consuming.
14) Easy handling.
15) Optimum strength.
16) High functionality.