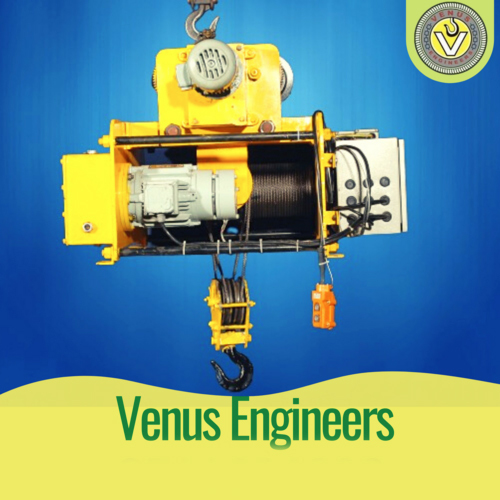 Electric Wire Rope Hoist
Price And Quantity
Unit/Units

960000.00 - 550000.00 INR
Product Specifications
Product Description
We are engaged in the manufacturing of Electric Wire Rope Hoists that are known for ruggedness and reliability. These show a right mix of quality motors, mild steel sheets, brakes, mild steel angles and beams etc. The hoists are engineered for excellent performance, low maintenance and smooth operating. Also, we keep up with customers' specifications, latest industrial trends and technology of the industry.

Salient Features of Electric Wire Rope Hoist:

Gear Boxes are Single, Helical.
Squirrel Cage Crane Induction Motor with 50% CDF per hour
Trolley can be adjustable based on I-beam size that is one of the raw materials used in the manufacturing.
Control Panel in this rope hoist is free from the troubles of fittings, transformers and fuses and can be replaced by roller type snap action in Electric Wire Rope Hoist.
Minimum number of parts requires maintenance.
Gears of this Electric Wire Rope Hoist assure very straight operation by their movement and also by handling the heat. Limit gauges are used to test the machined parts.
It helps in minimizing the losses and increases the efficiency that is needed in every request.
Every part of Electric Wire Rope Hoist is easily accessible, and the maintenance is very easy.
All High-speed rotational parts are provided with the anti-frictional bearings.
It is also available with Manual type of gear and is available with the trolley as well.
Inspection procedures are being followed which make Electric Wire Rope Hoist free from faults. This is very easy to use and handle.

Available Models:

Electric Wire Rope Hoists
Electric Chain Hoists
Crab Hoists
Farness Duty Hoists
Frame Proof Hoists, and any Specify Hoists.

Components of Wire Rope Hoists:

Gear Box: Single Helical Splash Lubricated MS/CI Fabricated Housing, Triple/Quadnple Stage Reduction Bale/Roller Bering Mounting Cranes.
Motor: TEFC Foot with Flange Mounted Squirrel Cage Crane-Duty Induction Electric Motor, S4 Duty 150 Starts Per Hour 40% CDF.
Drum: MS Seamless Pipe with Plate Single Grooved Fine Machined, Guide Nut for Proper Laying of Wire Rope.
Trolley: Geared Manual Type, Motorized, adjustable according to I beam size.
Control Panel: Step down Contractors Transformers H.R.C. fuses, Fittings, Transformers, will be provided in Control Panel. Limit Switches Snap Roller Providing in Main Hoisting
Product Details:
| | |
| --- | --- |
| Capacity | 6-10 ton |
| Chain Length | 6 - 8 Mtrs |
| Material | Mild Steel |
| Frequency | 50 HZ |
| Voltage | 230 V |
| Range | 0.5 - 3.0 (MT) |
| Phase | Three |
Technical Specifications:
Model
S.W.L.
In Kg.
Lift
(MTR)
Wire Rope
(Dia)
No. Of Fall
Hoisting Speed
Mtr/Min
Hoisting Motor
C.T Motor
H.P
M1/0.5/6
500
6
6
2
6
1
0.25
M1/1/3
1000
6
6
4
3
1
0.25
M2/1/6
1000
6
8
2
6
2
0.5
M2/1/9
1000
6
8
2
9
3
0.5
M2/1/12
1000
6
8
2
12
4
0.5
M2/1.5/4
1500
6
8
3
4
2
0.5
M2/1.5/6
1500
6
8
3
6
3
0.5
M2/1.5/8
1500
6
8
3
8
4
0.5
M2/2/3
2000
6
8
4
3
2
0.5
M2/2/4.5
2000
6
8
4
4.5
3
0.5
M3/2/4.5
2000
6
10
2
4.5
3
0.5
M3/2/6
2000
6
10
2
6
4
0.5
M3/2/7.5
2000
6
10
2
7.5
5
0.5
M3/2/11
2000
6
10
2
11
7.5
0.5
M3/3/3
3000
6
10
4
3
3
0.5
M3/3/4
3000
6
10
4
4
4
0.5
M3/3/5
3000
6
10
4
5
5
0.5
M3/3/7.5
3000
6
10
4
7.5
7.5
0.5
M3/4/3
4000
6
10
4
3
4
0.5
M3/4/4
4000
6
10
4
4
5
0.5
M3/4/5.5
4000
6
10
4
5.5
7.5
0.5
M4/5/3
5000
6
12
4
3
5
1
M4/5/4.5
5000
6
12
4
4.5
7.5
1
M4/5/6
5000
6
12
4
6
10
1
M4/5/7.5
5000
6
12
4
7.5
12.5
1
M4/7.5/3
7500
6
14
4
3
7.5
1
M5/10/3
7500
6
14
4
4
10
1
M5/10/4
7500
6
14
4
5
12.5
1
M5/10/4.5
10000
6
16
4
3
10
1
M5/10/6
10000
6
16
4
4
12.5
1
M5/12.5/3
10000
6
16
4
5
15
1
M5/12.5/3.5
10000
6
16
4
6
20
1
M5/12.5/5
12500
6
18
4
3
12.5
1.5
M5/15/3
12500
6
18
4
4
15
1.5
M5/15/4
12500
6
18
4
5
20
1.5
M4/7.5/4
15000
6
20
4
3
15
1.5
M4/7.5/5
15000
6
20
4
4
20
1.5