About Venus Engineers!
We are an ISO certified 9001:2008 certified company, specialized in the engineering of high-test EOT Crane and Gearbox. Established in the year 1998, the company has seen spectacular growth and has marked splendid mark in material handling equipment manufacturing industry. Our complete product array encompasses wire rope, chain hoist, Single Girder EOT Cranes, overhead cranes, overhead EOT cranes, double girder overhead cranes, Double Girder EOT Cranes, hydraulic overhead traveling cranes, power winch, chain pulley block, worm/helical gear boxed, etc.

State-of-the-art manufacturing plant, functional expertise and experience and large team of competent and expert professionals are the real strength and lifeline of Venus Engineers. Venus' Wire Rope Hoist, chain hoist, Electric Overhead Travelling cranes, HOT crane, power winch, overhead HOT cranes, hydraulic overhead traveling cranes, chain pulley block, etc. come with unmatched quality.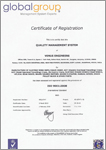 Read More