Electric Gear Motor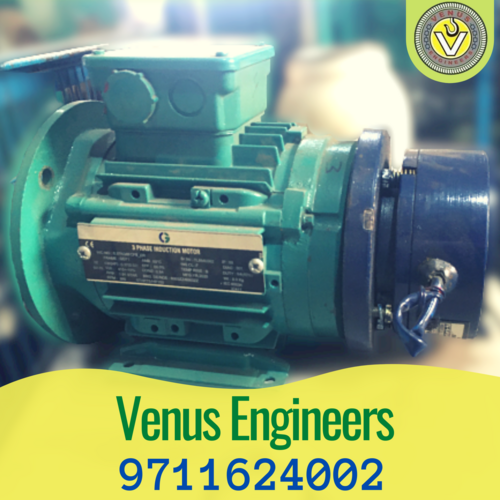 Electric Gear Motor
Price And Quantity
Unit/Units

15000.00 - 40000.00 INR
Product Description
Assisted by our team of qualified professionals, we are able to manufacture and export high quality Electric Gear Motor. We manufacture these motors by making use of superior quality components and steel obtained from the reliable vendors of the market. These motors are mostly used in automobile and machinery industries for operating various machines. We manufacture these motors by following all the norms and parameters laid by the industry. The Electric Gear Motor is quality examined before delivery to ensure high performance and durability.
The manufacturing procedure has been developed in all firms due to the technological progressions. The materials we use for the fabrication process are well utilized with technical advancements in fields of Mechanical power transportation. The quintessence of the technical expertness as well as engineers' experience has been utilized to release these new products. We are offering Power Build and Helical Geared Geared Motors with inline gear, which can be utilized to get extremely low speeds. Multiple stages step-down systems are utilized for this purpose. They are accessible in foot, foot Flange, flange, and hub arrangements. The gear system of these products execute various industrial tasks with much more efficiency and that too with much more ease.

Gear Case
The gear case is powered with close grained cast iron. The total piece with base and inner structures is formed into a single piece. The case permits easy heat dissipation, compactness, advanced strength, little mass, simple operation and casual maintenance.

Gears and Pinions
Helical Gear systems are employed in all sorts of geared motors. All gears are factory-made with particular grade alloy steel. Particular machines, Grounding Tools and heat treatment Systems are utilized to contour alloy steel discs to especial gears. All gear constituents utilized are helical and factory-made from designated particular alloy steel. Gears are yielded on heat treated, precise hobbing machines to attain the best execution and efficiency.

Shafts
The output shafts inserted in gear motors or reducers for inline gear reducers. They are made from medium carbon steel and have advanced protruded load carrying capacities. Heat Treatment is also executed to make up some in demand property.

Lubrication
Automatic oil splash performance permits effortless lubrication. By just topping up the oil occasionally it can be simply done. Level indicators, oil fillers and oil drains are connected to permit comely lubrication.

Motors
TEFC (Totally Enclosed, Fan-Cooled) squirrel cage induction geared motors are appropriate for operation on 415V, 3-stage, 50 C/s AC supply as per IS: 325. Proper inclosure and insularity is given to insure safety of users and contrivances. F/B class insulation and IB 55 enclosure are supplied.
Geared motor with particular attributes such as crane duty, extended shaft on NDE, flame-proof, brake etc. are also made.

Standards
DIN 42948 standards are put-upon during the manufacturing of shafts. Shaft lengths and dimensions are such that they permit proper endurance. Its diameter may differ from 50 mm to 100 mm. D 6885 regulations and P 9 tolerance is rendered to keys and key-ways.

Testing
Comely noise tests, speed analysis, oil leakage testing and heating analysis etc. The geared motors are time-tested for all working states and then conveyed into market.
The demand of these motors is consummated by the firms quite expeditiously, since these are consolidated with old experience and new technology. Precise fabrication of each and every component is done and then put together to make master products.

Gear Case
The reduction gear strings are housed in a stalwart gear case of one-place construction cast built-in with its internal and pedestal partition wall that services as both bearing and reinforcement housing. Gear case is factory-made from close grained cast iron and come with wide-cut surface area for heat dispersion.

Design
Low weight, easy operation, compact dimensions, effortless maintenance.

Electrical
All motors are supplied in IP 55 artifact and F/B class insulation.
Fitted with electric motors of particular designing such as crane duty, flame-proof, brake, drawn-out shaft on NDE, etc. can also be provided on special requests.
Technical Specifications:

Gear And Pinion: All gear components used are helical and manufactured from selected special alloy steel. Gears are generated on precise hobbing machines, heat treated and ground to achieve the best performance and efficiency.
Output Shafts: Output shafts of both geared motors and gear reducers and input shaft of inline gear reducers are manufactured from best quality medium carbon steel for high overhung load carrying capacities. For special applications, these can also be heat treated.
Lubrication: The lubrication of gears and bearings is fool-proof, being achieved automatically by splash of oil, Thus, no special care is required except occasional topping up the oil to required level, A large oil filler-cum-breather, oil level indicator and drain plug are provide on the gear box.
Electricals
Electric motor provided with geared motor is TEFC squirrel cage induction motor suitable for operation on 415V, 3-phase, 50 C/s AC supply as per IS : 325. All motors are provided in IP 55 enclosure and F/B class insulation.
Geared motor fitted with electric motor of special design like flame-proof, crane duty, extended shaft on NDE, brake etc., can also be offered.
Manufacturing Standards: All output shafts are manufactured as per DIN 42948. Tolerance for shaft diameters may vary as per IS, k6 upto 50mm and m6 above 50mm. Keyways and keys are as per DIN 6885 with keyways tolerance P9. Key steel DIN 6880. Threading on output speed tolerance is +- 3%
Testing: All Components ate throughly inspected at various stages ans assembled unit is tested on 'no load' for noise level, oil leakage output speed and temperature rise.