Manual Crab Winch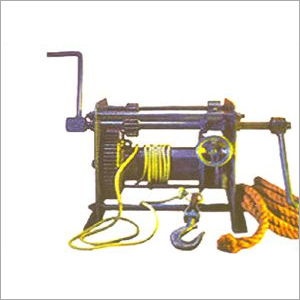 Manual Crab Winch
Price And Quantity
Unit/Units

20000.00 - 24000.00 INR
Product Specifications
manual mm/m

100 mtr Fluid Ounce (oz)
1000 Kilograms (kg)

4-10 Millimeter (mm)
1000- 20000 Kilograms (kg)
Product Description
Focusing on quality, we are able to offer superior quality Manual Crab Winch. The base frame and reducer of the winch is manufactured by our skilled professionals by making use of superior quality components and materials procured from the reliable vendors of the market. We manufacture the winch in accordance with IS - 9507 - 1979 and the latest market trends. Keeping in mind the various demands of our clients, we offer the Manual Crab Winch in many specifications.
Manufactures and their different activities involve a batch of heavy tasks such as moving and lifting of huge articles. Many mechanical instruments and gadgets are utilized to execute these hard tasks with simplicity. One of them is Manual Crab Winch. This device is utilized for heavy weight lifting and some other kindred tasks.
The principal use of the Manual Crab Winch is for lifting of heavy weights as well as for some other heavy duty purposes. It is also utilized for the erection of pillars.
Our winch range is built in compliance to the standards of IS -9507 -1979.
Structural Facet of Manual Crab Winch

Base frame: The base frame is made-up by stoned steel plates, which are well polished, suitably ribbed; the horizontal surface is also finished with chequered sheets, lifting lugs and tied up holes for comely foundation.
The reducer has 1st level reduction with different other open gears and pinions plus a ready-made reduction gear box.
It also incorporates a rode drum that is made with steel, has projections on two ends, precisely machined and with a capability of winding at 100 meter rope wire.
The motor unifies an advanced starting torque that conforms to IS -325 regulations.
Control and management of the Manual Crab Winch

The action of the winch is executed by the stations or push button controllers at 100V fixed on the device. There is instrumentality for controlling such as a pilot lamp, triplex pole interchanging contractors and H.R.C fuses, which make the controlling of the products more safe, efficient and user-friendly. The brake is primarily electromagnetic. Nevertheless, it can also be a double shoe type brake, the elector thrusters, or the hand-operated brake.

The product comes with umpteen benefits. It has very many connection necessities such as brake, gearbox, motor, rope drum, etc. Some of its models also proffer travel wheels, which are durable and enable simple movement, if necessitated. Well equipped with quality component parts it has only a couple of assembly essentials.
The range is noise free, if well-kept suitably it ensures a drawn-out service life with user-friendly operations.
Loading and unloading of massive loads, erecting pillars, pulling materials etc. are the different activities for which a manual crab winch is exercised. The winch dissent on the footing of the speed by which it carries through these utilities. We offer custom-made Manual Crab Winches to their clients supported on their particular requirements.

Applications :

The hand-operated mobile Material Handling Machine is suited for Indoor and Outdoor services. It is the elementary requirement in all the Machine shope, Motor Garages as well as for loading and unloading of the materials and Engines from the Vehicles.

Technical Data
Capacity in
(Tones)

1

2

3

5

10

15

20

Drum Dia (mm)

160

160

215

215

270

355

400

Drum Length (mm)

300

400

500

560

800

1000

1200

Flange Dia (mm)

285

380

400

500

600

750

900

Height A (mm)

490

610

730

960

1140

1440

1700

Width B (mm)

360

480

530

680

965

1140

1300

Length C (mm)

600

750

900

980

1300

1700

1900