Overhead Gantry Crane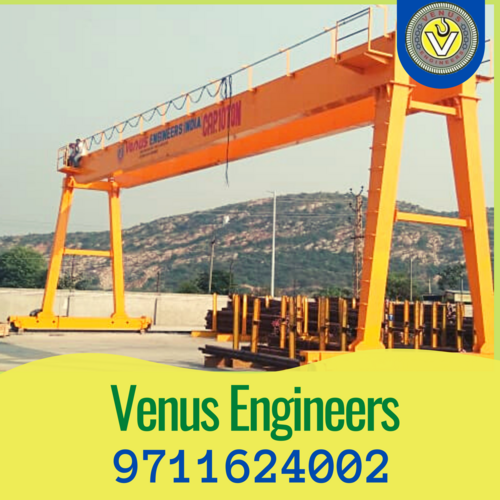 Overhead Gantry Crane
Price And Quantity
Product Specifications
Golden Yellow or Handpicked Color

Gantry Crane
Product Description
Goliath / Gantry Crane
The Most Portable and Flexible: Gantry Cranes
When it is required to lift a heavy object, Gantry Cranes are employed into use to do the needful. They work by lifting heavy loads with a hoist and can move horizontally over rails that are fitted under beams.
Gantry Cranes are used to lift heavy objects and are frequently used for ship buildings, wherein heavy parts and engines need to be fixed. Developed in modern times, Gantry Cranes are being used on a large scale since their development.
Gantry Cranes move along rails that are fixed on the ground. They are a safer and more efficient option when the use of Overhead cranes is not possible. Both the cranes are handled by one operator, making it less risky for operations.
Gantry/Goliath Cranes: Where they are used?
Gantry Cranes are used in most areas where the heavy lifting of objects is required. A few of them are mentioned below,
They are used at Construction sites where shifting and moving of building blocks is required.
Also at harbours, where heavy cargo and boxes need to be moved.
Gantry cranes are also used for shipbuilding.
They are used at workplaces where huge bridge cranes cannot be used due to height and weight constraints.
Gantry cranes are also used at steel plants, mills etc
Places where induction and maintenance of heavy engines and machinery are required.
Also at areas, where other overhead cranes, bridge cranes, etc. cannot be put to use.
Gantry cranes were first developed in Germany. They are commonly used owing to the flexibility and safety, they offer. Gantry Cranes are available in a lot of variants. Some are fixed whereas some are adjustable. Below mentioned are a few variants of Gantry Cranes
Portable Gantry Cranes: These gantries are the ones that are most used due to the flexibility and disassembly features they have.
Adjustable Gantry Cranes: This type of gantry crane has the facility of adjusting heights, widths, etc. according to the requirement and nature of the area of work. If there are space constraints, then the use of adjustable gantry cranes is ideal.
A few gantry cranes are also able to function on rubber tyres where rails cannot be used. Also, gantry cranes are made available in all sizes for enabling use in small workplaces where a small, but heavy load is required to be lifted.
Silent Feature :
Gantry cranes provide economical material handling in areas where an overhead crane system is not available or practical. Their safety and efficiency make them a frequent choice for production, installation and maintenance applications. Type of gantry cranes is available in either fixed or adjustable height models. Both types can be disassembled into three components for greater portability.
HGantry Crane is Mounting on four legs.
Semi Gantry Mounting on 2 legs.
Canti Leaver Single Side/Both Side.
Depending on the application, casters may be selected from a wide variety of sizes and styles. Casters are available from Bushman as optional equipment, or they may be provided by the purchaser.
Uses Of Gantry Crane:-
Wave house yard, Rolling Mill, Steels Plants, Fabrication Yard, Constructions.