Single Girder EOT Crane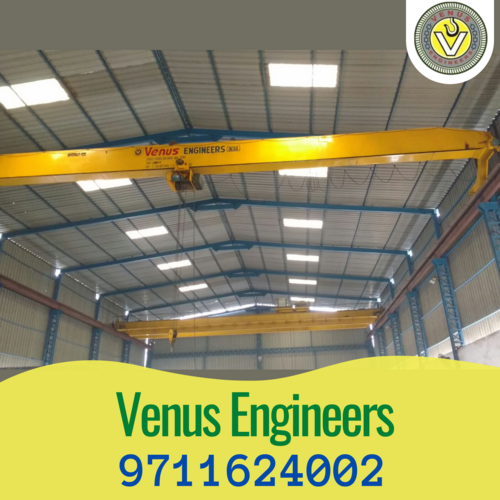 Single Girder EOT Crane
Price And Quantity
Unit/Units

320000.00 - 1600000.00 INR
Product Specifications
Yes

For loading and unloading
Thruster / DC Disc/ AC Shoe

15-20 m/m
1- 100 Tonne

4-50 Meter (m)
1-100 Tonne

vertical and horizontal
5- 35 Mtr

through remote/ pendent push button
3 mm/m

through remote/ pendent push button
415 v 3 phase

220/415 Watt (w)
Product Description
We manufacture overhead Single Girder EOT Cranes which are fabricated using optimum quality raw material and components like mild steel sheets, mild steel angles, I beam, motors, and brakes. Our single girder overhead cranes range is designed in such a way that can bear loads ranging up to 300 tons. These are extensively used in foundry, machine shops, and the engineering industry. We also offer customization on our range as per the specification of clients.

Material handling is a pivotal section in any manufacturing industry that includes the mass movement of materials from one spot to another by alternating the nature of the materials. If labourers are hired for moving such bulk materials, it will result in great costs without safety measures. Overhead EOT Single Girder Cranes we offer come with cost reduction and finally effects in less cost for a processed well.

EOT (Electronic overhead travelling) cranes are indispensable industrial equipment active in material handling activity. Overhead EOT single girder cranes are utilized to lift the physical objects by using the hoists fixed in trolleys. These come under standardized crane types and can be sequestered under two assemblages based on the nature of running and the number of the cross girder.

Based on the number of crosses- girders can be classified as single as well as double girder cranes. Based on the nature of running it can be under running cranes as well as top running cranes.

Under running: Running on the bottommost rim of runway girders, the running cranes are corroborated by the roof constitution. They are beneficial since the very small trolley approach magnitude can employ the maximal of the building's height and width. There is an expectation of employing the existent ceiling girder for the protection of the crane tracks.

Top running: The girders are the support beams, which are utilized to refer to the primary horizontal assistance of construction that aids smaller beams. Single girder cranes can be of:

1) I-beam type main girder that has a crane distance of 18m(59 ft) and loads up to 10 tonnes
2) Box-type main girder that pairs up to 30m (98 ft) and can uplift load up to 40 tonnes
3) Under running single girder cranes that pair up to 22m (72 ft) and weight lift loading up to 12.5 tonnes.

Overhead EOTsingle girder cranes value less in numerous ways as only cross girders are needful and have faster installation. The runway signals are lighter enough due to decreased crane dead weight. Overhead Cranes can be pressurized with radio remote controls as well as with independent travelling push button pendants that permit operators to stand on the fail-safe side and function. Functions are in such a manner of a safer side to have an obstruction less orientation for smooth running of products. These are bestowed with unique properties. Fundamental in the design optimization such that it obviates deadweight and cut down the price of the equipment. These are mostly utilized in manufacturing heavy equipment, construction companies, and exportation of materials, which cannot be managed with hands as such.

Some of the unique features of the Overhead EOT Single Girder Crane include:

High performance
Durable
Sturdy
Easy maintenance
Corrosion resistance
Following are the unique attributes of EOT cranes:
Optimum design of the structure avoids dead weight and reduces the equipment's cost.
Very much suitable for power house cranes where these cranes are used for maintenance.
Economical Design by providing manual long and cross travel facility with a provision for using either an electric hoist or a motorized chain pulley block.
Low headroom, which reduces the cost of the shed/building.
Customized design to match the budget of the customer.
Highly competitive prices.
Standard Features of overhead Single Girder EOT Crane:
Design: Compact dimensions, low weight, easy to operate and easy to maintain.
Motors: Motors will be Crane duty motors, squirrel cage induction motors for hoists and cranes also slippering induction motors will be provided for heavy-duty cranes as per the applications.
Gear Boxes: Precision flat helical / spur gear units in light alloy housings with case-hardened gears, high-grade surface treatment and permanent oil/grease lubrication.
Brakes: Single/Dual-disc electromagnetic DC brakes featuring automatic braking on power failure.
Limit Switches: To prevent hoisting & lowering of hook.
Push Button Stations: Extra light, handy, easy to operate, aluminium, fabricated from the extruded section.
Soft Starts: Electric/Electronic soft start modules electrically coupled to the long travel drives to achieve jerk free, cushioned & smooth starts.
Maintenance Platform With Hand Railing: Easy, simple & safe maintenance of the Crane extended partially or totally along the girder.
Technical Details:
S.W.L.
(M.T.)
Span
(mtrs.)
'S'
Head Room
(mm)
'C'
Wheel Base
(mm)
Hook Approach
(mm)
E/F
End Clearance
(mm)
A
Wheel Load Per Wheel
(Approx)
1

5

750

1800

700

250

0.9

10

850

2400

700

250

1.02

15

900

2800

700

250

1.27

2

5

850

2000

700

270

1.6

10

950

2400

700

270

1.7

15

1050

2800

700

270

1.9

20

1200

3600

700

270

2.3

3

5

850

1900

800

275

2.07

10

950

2400

800

275
2.2

15

1100

2800

800

275
2.6

20

1300

3600

800

275
3.2

5

10

1000

2400

900

275
3.5

15

1250

2800

900

275
4

20

1350

3600

900

275
4.4

7.5

10

1100

2400

950

300

5.02

15

1300

2800

950

300
5.5

20

1500

3600

950

300
6.02

10

10

1200

2400

1000

300
6.5

15

1400

2800

1000

300
7.1

20

1550

3600

1000

300
7.6

20

10

1250

2500

1000

300
9.4

15

1550

3000

1000

300
10.15
20

1600

4000

1000

300
10.7


Note:
Above specifications are for Class II Medium Duty Cranes.
Above dimensions are for Cranes having 6 Mtr. Lift. There may be minor deviations in dimensions for the higher height of lift.
Venus reserves the right to effect any designs or dimensional change without Notice.
Product Details:
| | |
| --- | --- |
| Load Capacity | 10-20 ton |
| Power Source | Electric |
| Span | 10-20 m |
| Max Height | 20-40 feet |
| Hoist Travelling Speed | 5-10 m/min |
| Frequency | 50 Hz |
| Material | Mild Steel |
Trade Information
Wooden packing and Loose

Australia, South America, Middle East, Western Europe, Central America, Africa, Asia, Eastern Europe, North America